Bathroom vanities are really the heart of the restroom, kind of in the same way that The Dude's Persian Rug really "tied the room together" in The Big Lebowski movie. A toilet and shower work together with other accessories to give an overall vibe to the room but it's the bathroom vanity that is the focal point. That being said, one of the most popular home improvement projects is upgrading said vanity, whether it be via replacement, refinishing, or part of a complete remodel. Here are some of the factors to weigh when choosing what option is right for you.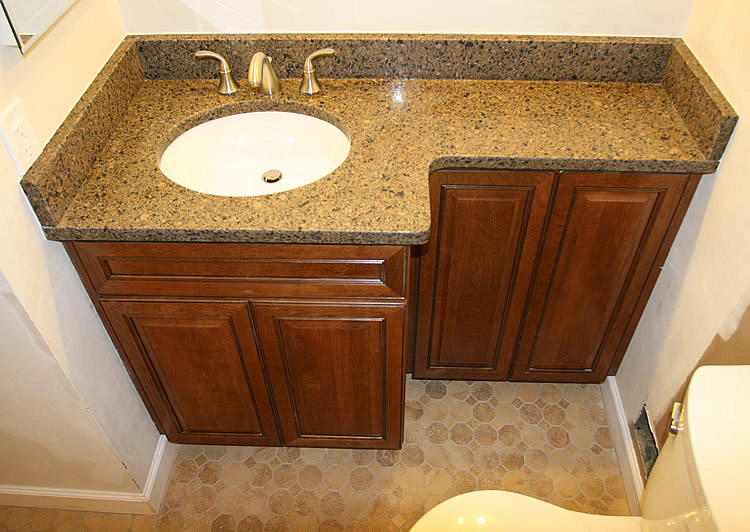 Replacing the Bathroom Vanity
As part of a complete bathroom renovation, most homeowners opt to replace their old vanity altogether. This doesn't mean it always has to be the case but the overall convenience of a replacement project is the go-to route for a number of reasons:
Poor Shape – In some cases the bathroom cabinets are just too far gone for even the most experienced renovator to salvage. There will come a time when it's simply the best option just to tear out the beat up vanity and start anew. This also applies to a chipped vanity countertop or attached backsplashes that have become an eyesore.

New Faucets – Making the switch to more energy efficient plumbing fixtures throughout the home is highly recommended, although the change-up may come at the cost of your current bathroom designs. Even though purchasing a new vanity represents added overhead, if it enables lower utility bills then over time a good majority of the costs can be recouped.

Want New Style – Depending on the overall décor of your home, it may simply be time for a fresh look in your bathroom. Newer bathroom fixtures feature dual-sink vanities that can greatly reduce the time it takes multiple family members to get ready in the morning and adding more storage in a vanity cabinets can give more space in the rest of the room.
 There are some other popular reasons for completely switching out the bathroom vanity such as it makes it easier to lay down new tile or it has undergone water damage from a leaky source.
 Renovating a Current Vanity
 There's a whole other faction of homeowners who prefer to restore their home decor wherever possible. Salvaging vanity is almost an ideal bathroom renovation project because of these factors:
Budget Friendly – Purchasing a brand new vanity and having it installed professionally is a project that can cost upwards of $1,000. On the other hand, hiring a renovation company to re-sand the cabinet doors and install new faucet fixtures won't set you back more than about 2 days of labor. The money saved on buying a vanity can be put towards modernizing the bathroom light fixtures and other appliances.

Environmentally Beneficial – Throwing away an old vanity countertop takes up a lot of space in landfills and when combined with old toilets and tubs a bathroom remodel can be a very environmentally damaging project.

Fun Project – Bringing an outdated vanity back to life is a great way to show off your creative side in addition to saving money and easing environmental pressure. Thinking outside the box or finding cool ideas online to give the bathroom a makeover is a great talking point for guests and can get you started on the way to other DIY projects.
 Much like other projects around the house, a number of things must be taken into account when deciding on how to tackle a bathroom vanity. Budget, city codes, and current home décor all determine the best route for homeowners. That being said, it doesn't have to be the black and white decision of whether to purchase new or renovate. For instance an old clothes dresser or cabinet can be fashioned into a vanity or there could be none at all with a free standing sink.
 Make sure you're comfortable with your decision, after all you have to look it in the mirror each morning.